skiing - who could ask for anything more?!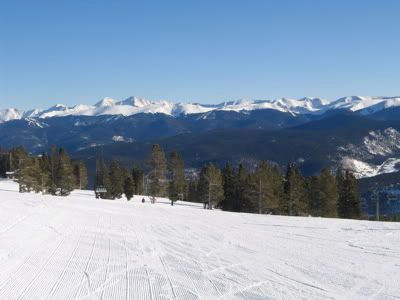 SKIING!!! we leave to go skiing in 20 days and oh my GOSH i'm excited. this is a picture that a friend of mine sent me to make me drool. it's breckenridge. that's where we're going. well, for part of the time at least. chris has never been skiing before so i'm going to be his teacher! some people may think this is a bad idea, but i do not. neither does chris - of course he doesn't know either way...anyway. once upon a time, my dream job of all dream jobs was to be a ski instructor in colorado. seriously!! jglass - remember that? man oh man. i still wouldn't mind it. i taught jglass how to ski! i remember she went to ski school and then we went up together and i was like "WHAT DID THEY TEACH YOU??!??!" poor thing. looked like a long-legged girl with no ability to stop. no offense, of course. ;) but after one course in The Walker School of Awesome Skiing, she was ripping the slopes apart! and not from "yard sale" busts, either. :) so anyway, i'm super excited and can't wait to put christopher through The Slaten School of Awesome Skiing. (the name has changed, of course...) my goodness, i hope skiing is like riding a bike...i haven't been since 2002. WHOA! it's been that long since the wreck!?!??! i can't believe it.


anyway, today has been slow, so i've been sorta kinda maybe researching the trip a bit and planning out just about how much we're going to be spending. we've saved for it, so we're good. did you know that if you fly frontier airlines that your boarding pass counts as a buy one/get one free lift ticket at copper mountain?!?!? whoever told me that had better not been lying, dangit!!! :) :) :) :) AND i bought a buy one/get one coupon on ebay for $7. so there's some money saving right there. and now that we're renting a car instead of riding the bus, we can get cheap tickets in denver and save more dough!!!


okay i'm sorry. this is a boring entry, but i'm just so stinking excited. the place we're staying is just adorable. and the people speak with english accents and have been nothing but wonderfully helpful!! what more could you want?!
bruno
, i suppose... :,( i don't think we'll be seeing him this time.


in other news...nope. there is no other news!! oh wait! except that zane and catherine are getting married in denver in september!!! which means i'll finally get to see colorado in the summertime!! sept counts as summer, right?! hmm...